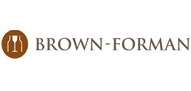 Brown-Forman Hong Kong Limited
Suites 2301-02, 23/F, South Island Place,
8 Wong Chuk Hang Road,
Wong Chuk Hang, Hong Kong
Tel: +852 2506 3388
Fax: +852 2506 3777
Web site: https://www.brown-forman.com/
Management
Mr. Ricardo Cupido – Vice President & General Manager, Asia
Background
Brown-Forman is a diversified producer of fine quality consumer products. It was founded in 1870 by George Garvin Brown in Louisville, KY, U.S. His original brand, Old Forester Kentucky Straight Bourbon Whisky, was America's first bottled bourbon and remains one of Brown-Forman's finest brands today.
Brown-Forman employs 4,700 people worldwide with about 1,300 located in Louisville. Brown-Forman, one of the largest American-owned spirits and wine companies and among the top 10 largest global spirits companies, sells its brands in more than 135 countries and has offices in cities across the globe.
Brown-Forman Hong Kong Limited (BFHK) was established in 2011. BFHK purchases BF Spirit products from Brown-Forman Corporation and resells to distributors in Hong Kong and around Asia local economy and duty-free channels.
Activities
Jack Daniel's Tennessee Whiskey
Jack Daniel's was established in Lynchburg, Tennessee (US) in 1866, which is the oldest registered distillery in United States. Jack Daniel's is one of the largest selling brands of whiskey in the world.
Finlandia Vodka
Finlandia Vodka was founded in 1888 and sold in 90 countries in the world with the sales volume of exceeding three million cases.
Herradura Tequila
Handcrafted in one of the Mexico's most historic distilleries, Herradura has produced the world's finest tequila since 1870. Today it offers a range of 100% blue agave tequilas that regularly win top honors at the world's most prestigious spirits competitions.
Employees
Establishment
Area
Parent Company
4,700
employees
2011
Brown-Forman is a global company.
Brown-Forman Corporation's headquarter is in Louisville, Kentucky, USA.