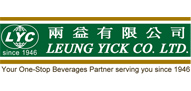 Leung Yick Co Ltd
Room 1804, Eastern Harbour Centre
28 Hoi Chak Street
Quarry Bay, Hong Kong
Tel: +852 2598 8034
Fax: +852 2598 8183
Web site: http://www.leungyick.com
Management
Chairman – Steve S.C. SO
General Manager – Jenny S.Y. SO
General Sales Manager (Hong Kong / Macau / China) – Michael Y.P. MAN
Senior Manager (Import & Export Division) – Man T.Y. WONG
Financial Controller (Accounting & Finance) – Oscar C.F.CHIU
Manager (Warehouse & Logistics) – Andy O.W.LEUNG
Background
Established in the year of 1946, Leung Yick first started its business in Wanchai as a local small wholesaler for general foodstuffs, groceries, beers and spirits. Through continuous effort in developing the distribution network to stores, bars, clubs, nightclubs and hotels together with the reputation built in the industry, Leung Yick has become one of the major local wholesalers in the beer market in the 1960s.
In the 1970s, Leung Yick further expanded its business portfolio to include imported whiskies, liqueurs, vodkas, gins, rums, cognacs and wines. With the change in era, Leung Yick shifted the focus from solely local distribution and wholesale of alcoholic beverages to both import and export and it has proven to be a great success for the company.
Activities
Our major customers include hotels, clubs, bars, restaurants, wine shops, department stores, online retailers, etc. We serve as the official distributor for Camus, JiangXiaoBai, Hendrick's, Monkey Shoulder, Bunnahabhain, Deanston, Dry Sack, Cat Port, Giffard, premium wines from France, Australia, Chile, etc.
| | | | |
| --- | --- | --- | --- |
| Employees | Establishment | Area | Parent Company |
| 56 employees | 1946 | Hong Kong, Macau, China, Asia, Europe, USA and Middle East | N/A |