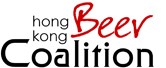 Profile
The Hong Kong Beer Coalition is the leading organization representing the beer industry. Our members account for about 90% of the beer sold in Hong Kong. Beer is Hong Kong's favorite alcoholic beverage and is a much-loved part of Hong Kong's hospitality and culture.
The Hong Kong Beer Coalition makes available an impartial forum for our members to meet and discuss common issues while maintaining fair competition in the marketplace. We endeavor to provide a unified voice in legislative and regulatory affairs; and serve as liaison between the beer industry, government, media and the general public.
Membership is open to any Hong Kong brewing companies and companies importing beer into Hong Kong. We currently have corporate members that represent about 50 brands in the marketplace. The members are: Anheuser-Busch Hong Kong Trading Company Limited, Carlsberg Brewery Hong Kong Limited, Heineken Hong Kong Limited, Jebsen Beverage Company Limited, San Miguel Brewery Hong Kong Limited, Tsingtao Beer (H.K.) Trading Company Limited and Wing Hing Group.